120 Thermo
Wall mounting enclosure for Building Automation and HVAC
Features
The Thermo enclosure is available complete with handle. During its design great attention has been given to the aesthetic design and to the product practicality. The handle has been created to allow an inside mounting of the enclosure. As well as improving the aesthetic, this allows a stronger fitting of the handle avoiding its loss while the product is being installed. The pcbs are mounted on the enclosure allowing a rapid substitution of the devices when needed and facilitating the assembling/ disassembling of the enclosure. The base has been designed to allow wall mounting assembly or the mounting on a standard enclosure of 55mm (international standard) or of type 503 (Italian standard).


Select the model to see the products
Login or register to view the price list and other dedicated services.
Complete enclosure
Colour

61.6040000

KIT ENCLOSURE THERMO WITH VENTS 120

White
Details and order Please login or register to view available prices and quantities

Drawings / Samples

61.6040003

KIT ENCLOSURE THERMO WITH VENTS 120CSF

White
Details and order Please login or register to view available prices and quantities

61.6041000

KIT ENCLOSURE THERMO CLOSED 120

White
Details and order Please login or register to view available prices and quantities

61.6041003

KIT ENCLOSURE THERMO CLOSED 120 CSF

White
Details and order Please login or register to view available prices and quantities

Drawings / Samples

61.6050000

THERMO 120 WITH KNOB DIAM 30 MM AND VENTILATION COMPLETE WHITE

White
Details and order Please login or register to view available prices and quantities

Drawings / Samples

61.6050003

KIT ENCLOSURE THERMO WITH VENTS 120CSF WITH KNOB D30

White
Details and order Please login or register to view available prices and quantities

61.6051000

KIT ENCLOSURE THERMO CLOSED 120 WITH KNOB D30

White
Details and order Please login or register to view available prices and quantities

61.6051003

KIT ENCLOSURE THERMO CLOSED 120 CSFWITH KNOB D30

White
Details and order Please login or register to view available prices and quantities

61.6052000

KIT ENCLOSURE THERMO WITH VENTS 120WITH KNOBS D20

White
Details and order Please login or register to view available prices and quantities

61.6052103

KIT ENCLOSURE THERMO WITH VENTS 120CSF WITH KNOBS D20

White
Details and order Please login or register to view available prices and quantities

61.6053000

KIT ENCLOSURE THERMO WITH VENTS 120WITH KNOBS D30

White
Details and order Please login or register to view available prices and quantities

61.6053103

THERMO 120 WITH 2 X KNOB DIAM 30 MM AND VENTILATION CSF TYPE COMPLETE WHITE

White
Details and order Please login or register to view available prices and quantities

61.6070000

KIT ENCLOSURE THERMO WITH VENTS 120BASE WITH TURRETS

White
Details and order Please login or register to view available prices and quantities

Drawings / Samples

61.6071000

KIT ENCLOSURE THERMO CLOSED 120 BASE WITH TURRETS

White
Details and order Please login or register to view available prices and quantities

61.6090000

THERMO 120 WITH KNOB DIAM 30 MM AND VENTILATION POPPETE TYPE COMPLETE WHITE

White
Details and order Please login or register to view available prices and quantities

61.6091000

KIT ENCLOSURE THERMO CLOSED 120 WITH KNOB D30 BASE WITH TURRETS

White
Details and order Please login or register to view available prices and quantities

61.6092100

KIT ENCLOSURE THERMO WITH VENTS 120WITH HANDLES BASE WITH TURRETS

White
Details and order Please login or register to view available prices and quantities

61.6092200

KIT ENCLOSURE THERMO WITH VENTS 120WITH KNOBS AND BASE WITH TURRETS

White
Details and order Please login or register to view available prices and quantities
Accessories
Colour

C61603000M

KNOB THERMO D20

Details and order Please login or register to view available prices and quantities

Drawings / Samples

P61603000M

HANDLE THERMO D30

White
Details and order Please login or register to view available prices and quantities

Drawings / Samples

P61603000P

PIN THERMO FOR KNOBS

White
Details and order Please login or register to view available prices and quantities

Drawings / Samples

P61603001M

KNOB THERMO SPECIAL D30MM

White
Details and order Please login or register to view available prices and quantities

Drawings / Samples
Special version on request
Colour

61.6040002

KIT ENCLOSURE THERMO 120 WITH DISPLAY PANEL

Details and order Please login or register to view available prices and quantities

61.6040012

THERMO 120 WITH VENTILATION, WITH BATTERY HOLDER AND DISPLAY PANEL

Details and order Please login or register to view available prices and quantities

61.6044000

KIT ENCLOSURE THERMO 120 WITH DISPLAY-BATTERY PANEL

White
Details and order Please login or register to view available prices and quantities

61.6044010

KIT ENCLOSURE THERMO 120 CSF WITH DISPLAY PANEL

Details and order Please login or register to view available prices and quantities

61.6090004

KIT ENCLOSURE THERMO 120 WITH TURRETS AND DISPLAY PANEL

Details and order Please login or register to view available prices and quantities

61.6090014

KIT ENCLOSURE THERMO 120 WITH TURRETS AND DISPLAY-BATTERY PANEL

Details and order Please login or register to view available prices and quantities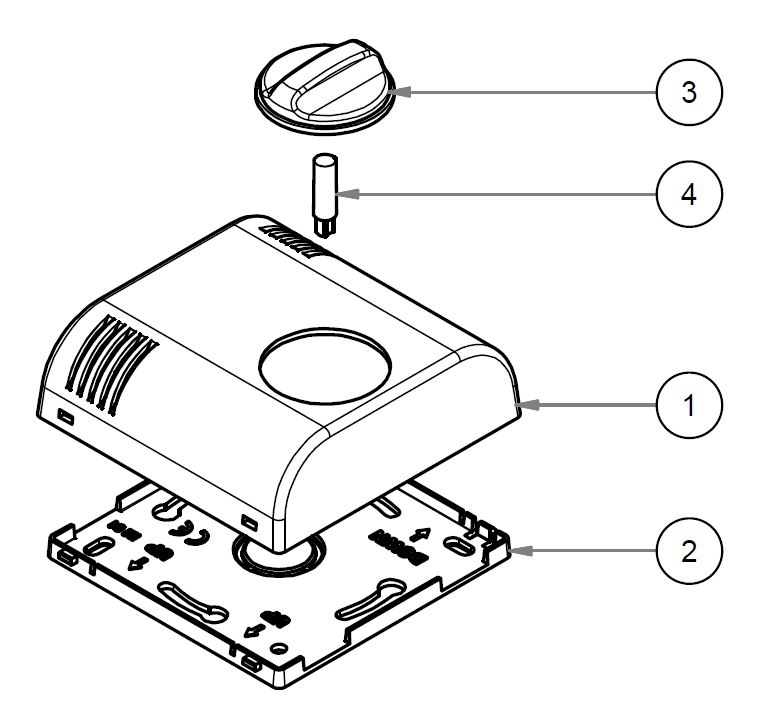 Description
1) Cover
2) Base
3) Knob*
4) Pin*
* Only for version with knob