Features
The Thermo range of enclosures has been designed to offer customers a modern and refined product for wall-mounting applications. This range is well suited to the Home and Building and the HVAC (Heating Ventilation and Air Conditioning) industry. The product can be supplied as a standard version with dimensions: 80x80 and 120x80. Other versions are available with a handle. In order to offer customers a highly attractive product, Italtronic has developed the mould so that the Thermo cover can be customized with minimal printing. The handle can also be customized. With this option, customers can enter the market with a recognisable range and reduce their investment in moulds.


Select the model to see the products
Login or register to view the price list and other dedicated services.
Complete enclosure
Colour

61.6020000

KIT ENCLOSURE THERMO WITH VENTS 80

White
Details and order Please login or register to view available prices and quantitiesCUSTOMIZATION COSTPlease login or register to view the configurator

Drawings / Samples

61.6020003

KIT ENCLOSURE THERMO WITH VENTS 80CSF

White
Details and order Please login or register to view available prices and quantitiesCUSTOMIZATION COSTPlease login or register to view the configurator

Drawings / Samples

61.6021000

KIT ENCLOSURE THERMO CLOSED 80

White
Details and order Please login or register to view available prices and quantitiesCUSTOMIZATION COSTPlease login or register to view the configurator

Drawings / Samples

61.6021003

KIT ENCLOSURE THERMO CLOSED 80 CSF

White
Details and order Please login or register to view available prices and quantitiesCUSTOMIZATION COSTPlease login or register to view the configurator

Drawings / Samples

61.6030000

KIT ENCLOSURE THERMO WITH VENTS 80WITH KNOB D30

White
Details and order Please login or register to view available prices and quantitiesCUSTOMIZATION COSTPlease login or register to view the configurator

Drawings / Samples

61.6030003

KIT ENCLOSURE THERMO WITH VENTS 80CSF WITH KNOB D30

White
Details and order Please login or register to view available prices and quantitiesCUSTOMIZATION COSTPlease login or register to view the configurator

61.6031000

KIT ENCLOSURE THERMO CLOSED 80 WITHKNOB D30

White
Details and order Please login or register to view available prices and quantitiesCUSTOMIZATION COSTPlease login or register to view the configurator

61.6031003

KIT ENCLOSURE THERMO CLOSED 80 CSFWITH KNOB D30

White
Details and order Please login or register to view available prices and quantitiesCUSTOMIZATION COSTPlease login or register to view the configurator

61.6032000

KIT ENCLOSURE THERMO WITH VENTS 80WITH KNOBS D20

White
Details and order Please login or register to view available prices and quantitiesCUSTOMIZATION COSTPlease login or register to view the configurator

61.6032003

KIT ENCLOSURE THERMO WITH VENTS 80CSF WITH KNOBS D20

White
Details and order Please login or register to view available prices and quantitiesCUSTOMIZATION COSTPlease login or register to view the configurator

61.6060000

KIT ENCLOSURE THERMO WITH VENTS 80BASE WITH TURRETS

White
Details and order Please login or register to view available prices and quantitiesCUSTOMIZATION COSTPlease login or register to view the configurator

Drawings / Samples

61.6061000

KIT ENCLOSURE THERMO CLOSED 80 BASEWITH TURRETS

White
Details and order Please login or register to view available prices and quantitiesCUSTOMIZATION COSTPlease login or register to view the configurator

Drawings / Samples

61.6080000

KIT ENCLOSURE THERMO WITH VENTS 80WITH KNOB D30 BASE WITH TURRETS

White
Details and order Please login or register to view available prices and quantitiesCUSTOMIZATION COSTPlease login or register to view the configurator

61.6081000

KIT ENCLOSURE THERMO CLOSED 80 WITHKNOB D30 BASE WITH TURRETS

White
Details and order Please login or register to view available prices and quantitiesCUSTOMIZATION COSTPlease login or register to view the configurator

61.6033003

THERMO 80 WITH 2 X KNOB CSF TYPE COMPLETE

Details and order Please login or register to view available prices and quantitiesCUSTOMIZATION COSTPlease login or register to view the configurator

61.6082000

KIT ENCLOSURE THERMO WITH VENTS 80WITH KNOBS D20 BASE WITH TURRETS

Details and order Please login or register to view available prices and quantitiesCUSTOMIZATION COSTPlease login or register to view the configurator
Accessories
Colour

C61603000M

KNOB THERMO D20

Details and order Please login or register to view available prices and quantities

Drawings / Samples

P61603000M

HANDLE THERMO D30

White
Details and order Please login or register to view available prices and quantities

P61603000P

PIN THERMO FOR KNOBS

White
Details and order Please login or register to view available prices and quantities

Drawings / Samples

P61603001M

KNOB THERMO SPECIAL D30MM

White
Details and order Please login or register to view available prices and quantities

Drawings / Samples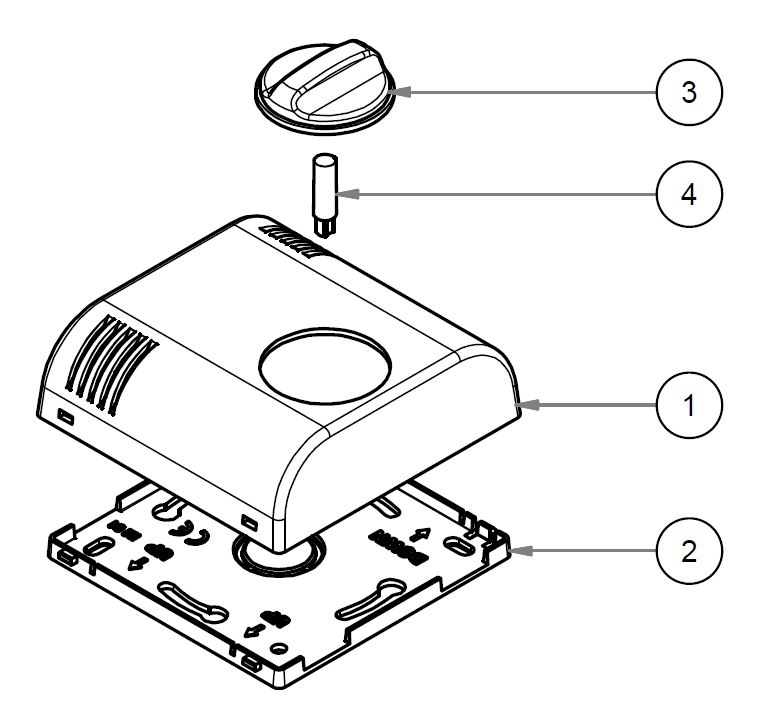 Description
1) Cover
2) Base
3) Knob*
4) Pin*
* Only for version with knob