22.5 Railbox Vertical & Multilevel
DIN rail (EN 60715) mounting enclosures for industrial device
Features
RAILBOX VERTICAL E MULTILEVEL is a unique and innovative enclosure designed to give a product a new aesthetic and highly technological look. RAILBOX VERTICAL E MULTILEVEL is suitable for electronic equipment on DIN rail (EN 60715). The enclosure is mounted vertically, thus saving space. To meet the Customers' needs, the following special features were designed: various modular sizes from 17,5 mm to a max of 45 mm thickness, easy-assembling without screws, hole covers breakable upon need, internal adaptor for the insertion of smaller PCBs in the enclosure, panels and front covers.
An expansion spacer is available to increase the size and allow the insertion of additional PCBs.



Select the model to see the products
Login or register to view the price list and other dedicated services.
Select a complete enclosure from the table to display compatible accessories
Vertical complete enclosure
Type
Colour

10.0000225

KIT ENCLOSURE RAILBOX VERTICAL 22,5MM GREEN

vertical
Green
Details and order Please login or register to view available prices and quantitiesCUSTOMIZATION COSTPlease login or register to view the configurator

Drawings / Samples

10.0001225

KIT ENCLOSURE RAILBOX VERTICAL 22,5MM DARK GREY

vertical
Dark Gray
Details and order Please login or register to view available prices and quantitiesCUSTOMIZATION COSTPlease login or register to view the configurator

10.0002225

KIT ENCLOSURE RAILBOX VERTICAL 22,5MM GREY

vertical
Gray
Details and order Please login or register to view available prices and quantitiesCUSTOMIZATION COSTPlease login or register to view the configurator

Drawings / Samples

10.0030225

KIT ENCLOSURE RAILBOX VERTICAL FORBUS 22,5MM GREEN

vertical
Green
Details and order Please login or register to view available prices and quantitiesCUSTOMIZATION COSTPlease login or register to view the configurator

10.0031225

KIT ENCLOSURE RAILBOX VERTICAL FORBUS 22,5MM DARK GREY

vertical
Dark Gray
Details and order Please login or register to view available prices and quantitiesCUSTOMIZATION COSTPlease login or register to view the configurator

10.0032225

KIT ENCLOSURE RAILBOX VERTICAL FORBUS 22,5MM GREY

vertical
Gray
Details and order Please login or register to view available prices and quantitiesCUSTOMIZATION COSTPlease login or register to view the configurator
Multilevel complete enclosure
Type
Colour

10.0010225

KIT ENCLOSURE RAILBOX MULTILEVEL 22,5MM GREEN

multilevel
Green
Details and order Please login or register to view available prices and quantitiesCUSTOMIZATION COSTPlease login or register to view the configurator

Drawings / Samples

10.0011225

KIT ENCLOSURE RAILBOX MULTILEVEL 22,5MM DARK GREY

multilevel
Dark Gray
Details and order Please login or register to view available prices and quantitiesCUSTOMIZATION COSTPlease login or register to view the configurator

Drawings / Samples

10.0012225

KIT ENCLOSURE RAILBOX MULTILEVEL 22,5MM GREY

multilevel
Gray
Details and order Please login or register to view available prices and quantitiesCUSTOMIZATION COSTPlease login or register to view the configurator

Drawings / Samples

10.0020225

KIT ENCLOSURE RAILBOX MULTILEVEL FOR BUS 22,5MM GREEN

multilevel
Green
Details and order Please login or register to view available prices and quantitiesCUSTOMIZATION COSTPlease login or register to view the configurator

10.0021225

KIT ENCLOSURE RAILBOX MULTILEVEL FOR BUS 22,5MM DARK GREY

multilevel
Dark Gray
Details and order Please login or register to view available prices and quantitiesCUSTOMIZATION COSTPlease login or register to view the configurator

10.0022225

KIT ENCLOSURE RAILBOX MULTILEVEL FOR BUS 22,5MM GREY

multilevel
Gray
Details and order Please login or register to view available prices and quantitiesCUSTOMIZATION COSTPlease login or register to view the configurator
Accessories - Panels
Type
Colour

P10030001P

PANEL RAILBOX 17MM GREEN

vertical/

multilevel/

Green

Details and order Please login or register to view available prices and quantitiesCUSTOMIZATION COSTPlease login or register to view the configurator

Drawings / Samples

P10030105P

FRONT HINGED PANEL RAILBOX 17MM DARK GREY

vertical/

multilevel/

Dark Gray

Details and order Please login or register to view available prices and quantitiesCUSTOMIZATION COSTPlease login or register to view the configurator

Drawings / Samples

P10030192P

PANEL RAILBOX 17MM DARK GREY

vertical/

multilevel/

Dark Gray

Details and order Please login or register to view available prices and quantitiesCUSTOMIZATION COSTPlease login or register to view the configurator

P10030205P

HINGED PANEL RAILBOX 17MM GREY

vertical/

multilevel/

Gray

Details and order Please login or register to view available prices and quantitiesCUSTOMIZATION COSTPlease login or register to view the configurator

Drawings / Samples

P10030292P

PANEL RAILBOX 17MM GREY

vertical/

multilevel/

Gray

Details and order Please login or register to view available prices and quantitiesCUSTOMIZATION COSTPlease login or register to view the configurator

P10030405P

HINGED PANEL RAILBOX 17MM GREEN

vertical/

multilevel/

Green

Details and order Please login or register to view available prices and quantitiesCUSTOMIZATION COSTPlease login or register to view the configurator

Drawings / Samples

P10030720P

PANEL RAILBOX WITHOUT LED SEATS 17MM TRANSPARENT

vertical/

multilevel/

Transparent

Details and order Please login or register to view available prices and quantitiesCUSTOMIZATION COSTPlease login or register to view the configurator

Drawings / Samples

P10030721P

HINGED PANEL RAILBOX 17MM TRANSPARENT

vertical/

multilevel/

Transparent

Details and order Please login or register to view available prices and quantitiesCUSTOMIZATION COSTPlease login or register to view the configurator

Drawings / Samples

P10030821P

HINGED PANEL RAILBOX 17MM TRANSPARENT RED

vertical/

multilevel/

Transparent red

Details and order Please login or register to view available prices and quantitiesCUSTOMIZATION COSTPlease login or register to view the configurator

Drawings / Samples

P10030851P

PANEL RAILBOX 17MM METHACRYLATE RED

vertical/

multilevel/

Transparent red

Details and order Please login or register to view available prices and quantitiesCUSTOMIZATION COSTPlease login or register to view the configurator

Drawings / Samples

P10031720P

PANEL RAILBOX WITH LED SEATS 17MM TRANSPARENT

vertical/

multilevel/

Transparent

Details and order Please login or register to view available prices and quantitiesCUSTOMIZATION COSTPlease login or register to view the configurator

Drawings / Samples
Accessories - Breakable hole cover
Type
Colour

P10000000T

HOLE COVER RAILBOX VERTICAL BREAKABLE OPEN GREEN

vertical/

Green

Details and order Please login or register to view available prices and quantities

Drawings / Samples

P10000001T

HOLE COVER RAILBOX VERTICAL BREAKABLE CLOSED GREEN

vertical/

Green

Details and order Please login or register to view available prices and quantities

Drawings / Samples

P10000002T

HOLE COVER RAILBOX VERTICAL BREAKABLE CLOSED GREY

vertical/

Gray

Details and order Please login or register to view available prices and quantities

Drawings / Samples

P10000003T

HOLE COVER RAILBOX VERTICAL BREAKABLE CLOSED DARK GREY

vertical/

Dark Gray

Details and order Please login or register to view available prices and quantities

Drawings / Samples

P10000192T

HOLE COVER RAILBOX VERTICAL BREAKABLE OPEN DARK GREY

vertical/

Dark Gray

Details and order Please login or register to view available prices and quantities

P10000292T

HOLE COVER RAILBOX VERTICAL BREAKABLE OPEN GREY

vertical/

Gray

Details and order Please login or register to view available prices and quantities
Accessories - Multilevel hole cover
Type
Colour

P10000005T

HOLE COVER RAILBOX MULTILEVEL BREAKABLE OPEN 22,5MM GREEN

multilevel/

Green

Details and order Please login or register to view available prices and quantitiesCUSTOMIZATION COSTPlease login or register to view the configurator

Drawings / Samples

P10000009T

HOLE COVER RAILBOX MULTILEVEL CLOSED 22,5MM GREEN

multilevel/

Green

Details and order Please login or register to view available prices and quantitiesCUSTOMIZATION COSTPlease login or register to view the configurator

P10000205T

HOLE COVER RAILBOX MULTILEVEL OPEN22,5MM GREY

multilevel/

Gray

Details and order Please login or register to view available prices and quantitiesCUSTOMIZATION COSTPlease login or register to view the configurator

Drawings / Samples

P10000109T

HOLE COVER RAILBOX MULTILEVEL CLOSED 22,5MM DARK GREY

multilevel/

Dark Gray

Details and order Please login or register to view available prices and quantitiesCUSTOMIZATION COSTPlease login or register to view the configurator

Drawings / Samples

P10000209T

HOLE COVER RAILBOX MULTILEVEL CLOSED 22,5MM GREY

multilevel/

Gray

Details and order Please login or register to view available prices and quantitiesCUSTOMIZATION COSTPlease login or register to view the configurator

Drawings / Samples

P10000105T

HOLE COVER RAILBOX MULTILEVEL BREAKABLE OPEN 22,5MM DARK GREY

multilevel/

Dark Gray

Details and order Please login or register to view available prices and quantitiesCUSTOMIZATION COSTPlease login or register to view the configurator

Drawings / Samples
Accessories
Type
Colour

P10000092A

ADAPTER FOR PCB RAILBOX VERTICAL GREEN

vertical/

Green

Details and order Please login or register to view available prices and quantities

P10000092D

SPACER RAILBOX VERTICAL GREEN

vertical/

Green

Details and order Please login or register to view available prices and quantities

Drawings / Samples

P10000192A

ADAPTER FOR PCB RAILBOX VERTICAL DARK GREY

vertical/

Dark Gray

Details and order Please login or register to view available prices and quantities

Drawings / Samples

P10000192D

SPACER RAILBOX VERTICAL DARK GREY

vertical/

Dark Gray

Details and order Please login or register to view available prices and quantities

Drawings / Samples

P10000292A

ADAPTER FOR PCB RAILBOX VERTICAL GREY

vertical/

Gray

Details and order Please login or register to view available prices and quantities

P10000292D

SPACER RAILBOX VERTICAL GREY

vertical/

Gray

Details and order Please login or register to view available prices and quantities

10.000K111

KIT SPACER DOUBLE PCB FOR RAILBOX 35MM FOR BUS

multilevel/

Details and order Please login or register to view available prices and quantities

Drawings / Samples

10.000K112

KIT SPACER DOUBLE PCB FOR RAILBOX 45MM FOR BUS

multilevel/

Details and order Please login or register to view available prices and quantities

Drawings / Samples

10.000K113

KIT SPACER DOUBLE PCB FOR RAILBOX 35MM

multilevel/

Details and order Please login or register to view available prices and quantities

10.000K114

KIT SPACER DOUBLE PCB FOR RAILBOX45MM

multilevel/

Details and order Please login or register to view available prices and quantities

P10000811A

ACCESSORY RAILBOX FOR BUS 22,5MM RED

vertical/

multilevel/

Red

Details and order Please login or register to view available prices and quantities

Drawings / Samples
Spare parts
Type
Colour

vertical /

multilevel /

multilevel large panel/

Red

Details and order Please login or register to view available prices and quantities

Drawings / Samples

P10000000M

SPRING FOR HOOK RAILBOX

vertical /

multilevel /

multilevel large panel/

Details and order Please login or register to view available prices and quantities

Drawings / Samples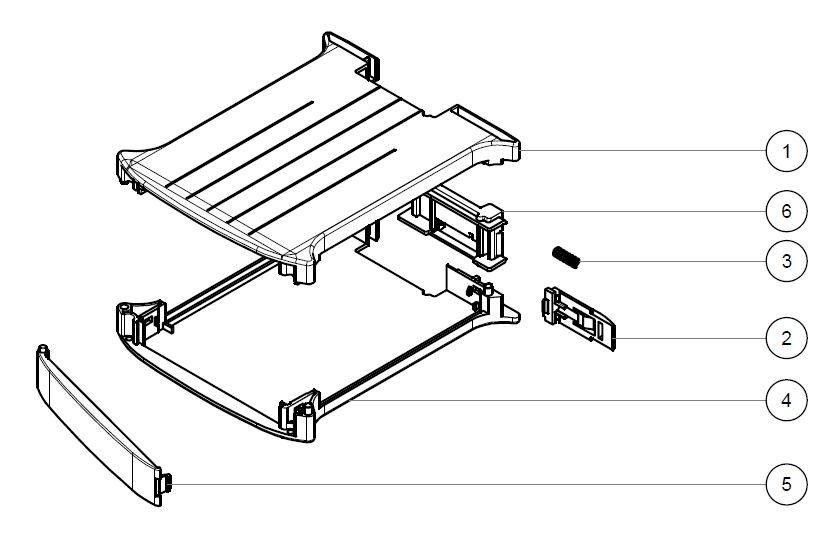 Description
1) Cover*
2) Hook*
3) Spring for hook*
4) 12.5 mm base*
5) 17 mm front hinged transparent panel*
6) Special element for bus**
* Included in the kit
** Only for bus version