Cbox Universal
Enclosure for Home & Building Automation for wall-mounting electrical boxes.
Features
A new system for fitting electronic components to type 503 wall-mounting electrical boxes. The electronic components are always the same and, for the 503 electrical box, can be assembled on plate holders, from leading manufacturers, which are usually used in the electrical system sector. Thanks to a simple mechanical interface kit, the installer can choose the right combination of plate holders and coupled plates for fastening, as well as any other finishing accessories.
The CBOX UNIVERSAL can equip most important frame for electrical application: GEWISS (Top System, Chorus), BTICINO (Light, Axolute, Living), VIMAR (Idea, Ekon, Plana) and ABB (Chiara).​

Technical specs
| | |
| --- | --- |
| Material | Self-extinguishing PC/ABS |
| Colour | Dark Grey |


Select the size to see the products
Login or register to see the complete catalogue with prices.
Complete enclosure
Colour

12.0000045

KIT ENCLOSURE CBOX UNIVERSAL WITH CLOSED PANEL

Gray
Details and order

12.0000055

KIT ENCLOSURE CBOX UNIVERSAL WITH BREAKABLE PANEL

Gray
Details and order

12.0000745

KIT ENCLOSURE CBOX UNIVERSAL WITH CLOSED PANEL TRANSPARENT

Transparent
Details and order

12.0000755

KIT ENCLOSURE CBOX UNIVERSAL WITH BREAKABLE PANEL TRANSPARENT

Transparent
Details and order

Drawings / Samples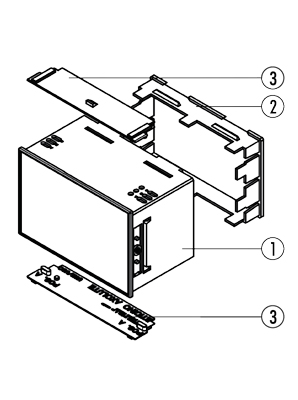 Description
1) Body enclosure
2) Rear panel with centering guides
3) Kit Adapters