48.96 XT Incabox XT
Panel mounting enclosures for electronic products according to IEC 61554 (ex DIN 43700)
FEATURES
INCABOX XT enclosures are manufactured to the IEC 61554 (ex DIN 43700) standard and used in the field of panel mounting instrumentation and control. INCABOX XT is an innovative product that combines a very high protection level for the visible front panel with subtle and elegant appeal. A printed circuit board can be mounted in the front of the housing.
Technical specs
| | |
| --- | --- |
| Material | self-extinguishing PPO (body enclosure) Self-extinguishing PC/ABS (front module) |
| Colour | Black (body enclosure) Grey (front module) |
| Dimensions | 48x96x57/75/100/124 special dimensions upon request |
CUSTOMIZABLE AREA
Italtronic offers low-cost customization of INCABOX XT enclosures, when most frequently required. The front panel can be customized with any drilled holes during the plastic injection stage. In the same way, you can request other aesthetic choices for the front bezel. All this is due to the special design of the mould, which allows prompt low-cost modification to the front bezel, as shown in the drawing on the same page of the catalogue. Further technical information is available on request: techcure@italtronic.com.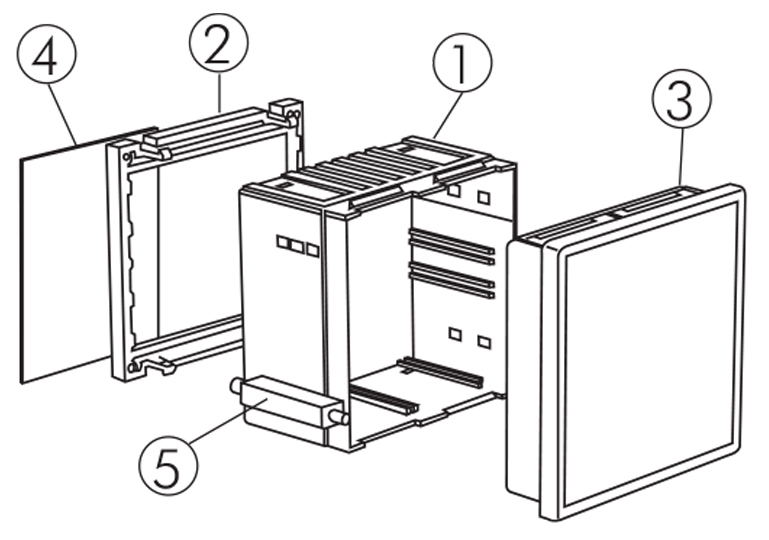 Description
1) Body enclosure
2) Rear frame
3) Front module
4) Rear panel*
5) Fastening element
* Separate accessories