Italtronic Configurator and new tool for "Cost Customization"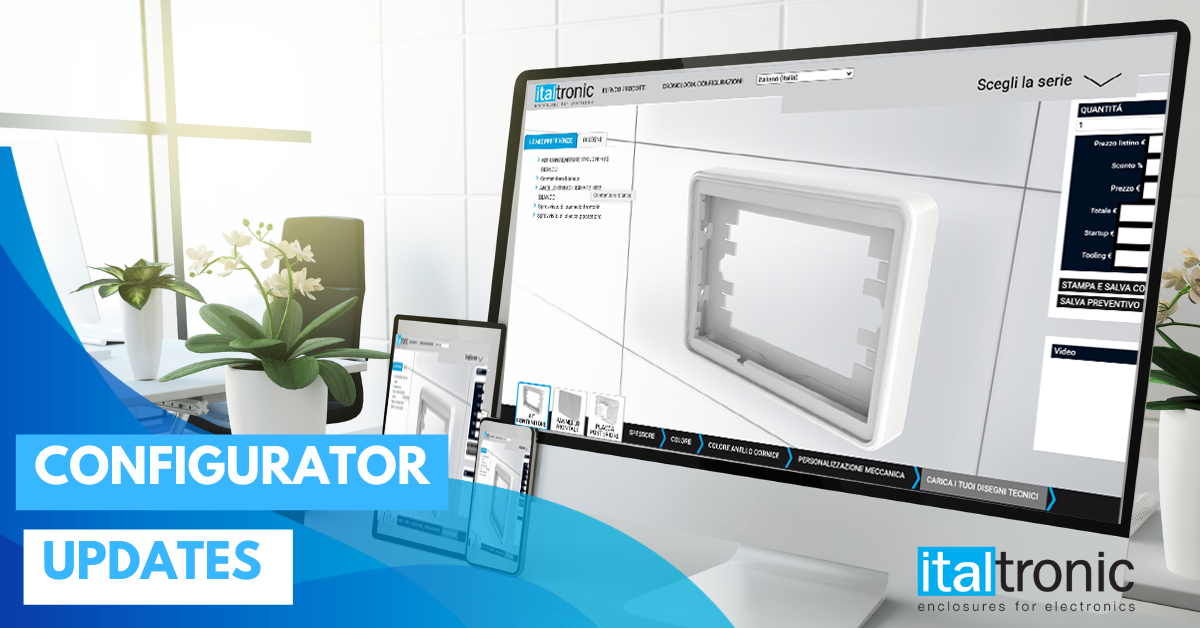 Dear Customers, Distributors and Agents,
We are pleased to present you some important news about our Configurator.
Among the producers of plastic enclosures, we have been the first to offer this precious tool which may help our customers to have a cost on the enclosures customizations.
In this way the designers will be able to choose immediately the best way (cost/ benefit) on the customizations, either graphic or mechanical.
In these days we have implemented this tool even for the new product series iShape, Std Shape, CSF, Modulbox XTS and Eyebox .
We are pleased to announce that even for the following series of products (DIN rail enclosures where Italtronic is the leader in the number of versions and sizes), you can immediately have a total cost based on the selected configuration (type of enclosure and relative accessories) and on the type of graphic and/or mechanical customization you need:
Modulbox One: our first series of Rail DIN enclosures, still in high demand, after more than 30 years
Modulbox XTS Compact: the series with lower height to respond to the new techniques in the construction of real estates, such as wooden houses etc.
Modulbox XT PLC: the series of enclosures designed specifically to offer a large front surface and maximum freedom in customization for connectors
Panels for Modulbox: more and more often the same enclosure with the same "versatile" electronics inside can become a different product and this difference may be highlighted by different graphics or openings.
Using the Configurator you can have the costs of customization on the panels compatible with the Modulbox series, immediately.
We have implemented the same calculation tool for all the other families of enclosures and relative accessories but, for the products or accessories of your interest the link Cost customization is available directly on the product web page, on the right side you can download all the technical drawings, request samples, enter the e-commerce form and get many other infos.
The access to this new tool, as well as to the configurator, is possible after logging in to our web site.
We look forward to supporting you in your future creations.
Best regards
Fabio Carraro
Chief Commercial Officer
Italtronic - Enclosures for Electronics