E 72 Support One
DIN rail (EN 60715) mounting modular supports for PCBs
Caratteristiche
E72 profile supports are used when it is necessary to mount the electronic equipments on a DIN Rail. It is composed of a self-extinguishing PVC profile, lateral side elements and a hook. It can be supplied either in a 2 metres profile or it can be cut in various dimensions. With a simple accessory, (EF), it is possible to mount the profile directly on the wall instead of mounting it to the DIN (EN 60715) rails.
Minimum length 30 mm
Maximum length 350 mm

Technical specs
| | |
| --- | --- |
| Material | Self-extinguishing PVC UL 94V-0 (profile support) Self-extinguishing Polyamide 6.6 UL 94V-0 (lateral elements) |
| Colour | Green / Black upon request |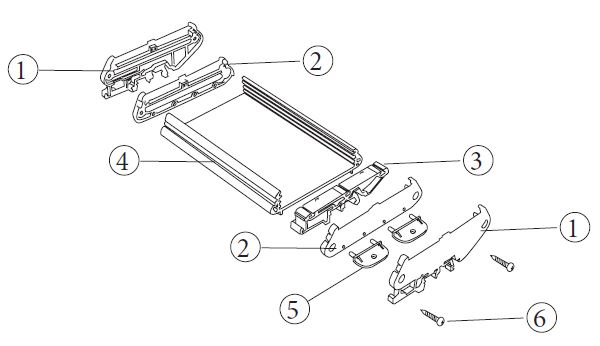 Description

1) Lateral side element with hook
2) Side element
3) Hook
4) Profile
5) Fixing for wall mounting
6) Profile screw
| | | | | | | | |
| --- | --- | --- | --- | --- | --- | --- | --- |
| PCB | Modulo | E72CM* | E72CL | E72CLGL | E72CLGR | E72G | EV |
| 53,75x72x1,6 | 56,25 | 50,25 | 2 | (1) | (1) | 2 | 4 |
| 65,0x72x1,6 | 67,5 | 61,5 | 2 | (1) | (1) | 2 | 4 |
| 76,25x72x1,6 | 78,75 | 72,75 | 2 | (1) | (1) | 2(1) | 4 |
| 87,5x72x1,6 | 90,0 | 84 | 2 | (1) | (1) | 2(1) | 4 |
| 98,75x72x1,6 | 101,25 | 95,25 | 2 | (1) | (1) | 2(1) | 4 |
| 110,0x72x1,6 | 112,5 | 106,5 | 2 | (1) | (1) | 2(1) | 4 |
| 121,25x72x1,6 | 123,75 | 117,75 | 2 | (1) | (1) | 2(1) | 4 |
| 132,5x72x1,6 | 135 | 1292 | 2 | (1) | (1) | 2(1) | 4 |
| 143,75x72x1,6 | 146,25 | 140,25 | 2 | (1) | (1) | 3(1) | 4 |
| 155,0x72x1,6 | 157,5 | 151,58 | 2 | (1) | (1) | 3(1) | 4 |
| 166,25x72x1,6 | 168,75 | 162,75 | 2 | (1) | (1) | 3(1) | 4 |
| 177,50x72x1,6 | 180 | 174 | 2 | (1) | (1) | 3(1) | 4 |
Note: The cut to size E72 profile support can be supplied in the requested dimension ordering code the profile followed by the requested length (i.e. for the PCB: 128,5x72x1,6mm, the length of the profile can be
obtained deducing 3,5 mm from the dimension of the PCB: 128,5mm-3,5mm = 12,5 cm therefore E72M CM, code 07.6300000, L=12,5cm.
Consider the presence of the hook E72G every 50/60 mm on the profile.
Login or register to see the complete catalogue with prices.
Profile STD size
Code
Type
Description
07.631C000
Order
PACKAGING SERVICE BAR CUT ATLENGTH E72
07.631T000
Order
SERVICE CUT AT SIZE E72
07.6310615
Order
SERIES E72 CUT-TO-SIZE PROFILE, STANDARD E72L 61.50 FOR PCB OF 65,00 MM
Drawing Drawing 3D Drawing
07.6310727
Order
E72L 72.75
SERIES E72 CUT-TO-SIZE PROFILE, STANDARD. E72L 72.75 FOR PCB OF 76,25MM
Drawing Drawing 3D Drawing
07.6310840
Order
SERIES E72 CUT-TO-SIZE PROFILE, STANDARD. E72L 84.00 FOR PCB OF 87,50MM
Drawing Drawing Samples 3D Drawing
07.6310952
Order
E72L 95.25
SERIES E72 CUT-TO-SIZE PROFILE, STANDARD. E72L 95.25 FOR PCB OF 98,75MM
Drawing Drawing 3D Drawing
07.6311065
Order
E72L 106.5
SERIES E72 CUT-TO-SIZE PROFILE, STANDARD E72L 106.50 FOR PCB OF 110,00MM
Drawing Drawing 3D Drawing
07.6311177
Order
E72L 117.75
SERIES E72 CUT-TO-SIZE PROFILE, STANDARD E72L 117.75 FOR PCB OF 121,25MM
Drawing Drawing 3D Drawing
07.6311290
Order
E72L 129.00
SERIES E72 CUT-TO-SIZE PROFILE, STANDARD E72L 129.00 FOR PCB OF 132,50MM
Drawing Drawing 3D Drawing
07.6311402
Order
E72L 140.25
SERIES E72 CUT-TO-SIZE PROFILE, STANDARD E72L 140.25 FOR PCB OF 143,75MM
Drawing Drawing 3D Drawing
07.6311515
Order
SERIES E72 CUT-TO-SIZE PROFILE, STANDARD E72L 151.50 FOR PCB OF 155,00MM
Drawing Drawing 3D Drawing
07.6311627
Order
SERIES E72 CUT-TO-SIZE PROFILE, STANDARD E72L 162.75 FOR PCB OF 166,25MM
Drawing Drawing 3D Drawing
07.6311740
Order
SERIES E72 CUT-TO-SIZE PROFILE, STANDARD E72L 174.00 FOR PCB OF 177,50MM
Drawing Drawing Samples 3D Drawing